My Food (and me)
"Genuine passion…..ideal host….you can tell all her food is cooked with love" Helen Taggart, Owner MetroDeco cafe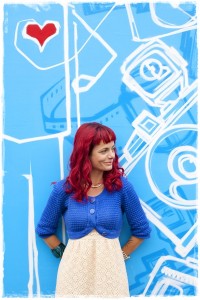 My career in food began when I opened up a gourmet Bed and Breakfast in Edinburgh. I quickly realised I was sending my guests out in the mornings stuffed with huge three course breakfasts. So I set up my own catering company, and from there OK magazine found me, and I worked closely with them on lots of events and parties.
From there it was a small step professionally (but a large one geographically) back to Brighton and the sunshine, and some time spent personal cheffing for rock n roll royalty.
Leaving for a little more independence, Brighton Bakes was born – a catering company that works for private clients, venues and cafes alike.
I have cultivated corporate clients too, and am proud of my work with Steamer Trading on their last few Summer and Winter catalogues, food styling and producing all the edibles for their brochures.  A couple of photos from their Christmas catalogue can be seen below.
Over the years I've been concocting my own versions of recipes, and creating a distinctive style to my cooking, which really took shape when I moved from Edinburgh back to Brighton.
In 2013 I published my first cookbook, Brighton Bakes, which showcases my fresh and vibrant food. "Local ingredients, organic ingredients, fresh fruit, flowers, herbs and spices – tapping into the zeitgeist with an eye to the past. My food is contemporary, but I haven't forgotten where my roots lie – in the rich, earthy soils of Sussex." It's gone on to do very well in the national and local press, and has opened up a new career path, doing baking demonstrations at food festivals up and down the country.
I'm lucky to work with some fantastic local suppliers, which means that my dishes are always evolving and changing. Local and seasonal have become the mantra for all foodies, but I'm lucky enough to know the people who look after the hens who lay my eggs, the fisherman who land the fish, the dairy who supplies my cheeses, and the butcher who supplies my meat.
"Food is the future concocted magically out of the past" – AA Gill in the Sunday Times